Virtual learning can be fun! But after a while, being stuck at home all the time can start to drive you and your kids crazy. What can you do to spice things up and make learning fun again? Why not take the little ones on a field trip? Here are our four favorite places to go for a fun learning experience in Baltimore, MD.
#1 Maryland Science Center in Baltimore, MD
We love the Maryland Science Center in Baltimore, Maryland because of its many interactive exhibits. If your kids prefer hands-on learning to book-learning, this is the place for them! Many adults have been known to enjoy these exhibits too. Here are our top picks:
Do your little ones love dinosaurs? Then the Dinosaur Mysteries Exhibit will be a hit! The collection of giant skeletons is impressive, but there's even more fun to be had. You can measure a dino footprint and learn how to use a magnifying glass to look at fossils. By the time you're finished at this exhibit, you'll feel like a real paleontologist!
But what will you do with your littlest children? Take them to the Kids' Room! Using a wind tunnel, legos, and ramps, the staff at the Maryland Science Center will engage even the younger kids. This room also has a safe play area for little ones under two.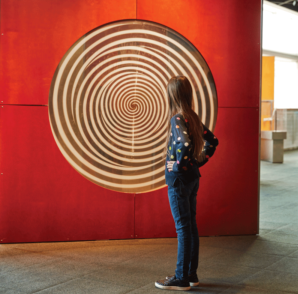 Other Activities & Exhibits
Davis Planetarium
The Shed
Newton's Alley
The SciLab
IMAX Shows
And More!
#2 Port Discovery Children's Museum
If you've never been to the Port Discovery Children's Museum in Baltimore's Inner Harbor you're missing out! No matter the age of your child, there's a play area for them. There are so many creative indoor activities, it'll boggle your imagination! This museum is huge, three floors, and 80,000 square feet. So you can spend the whole day here without running out of things to do.
What can you do there? Here are our favorite activities! If your kid has a keen sense of adventure, they'll love the SkyClimber and its four stories of climbing fun! If your little one likes to cook, let them play at Tiny's Diner. And if your child is a fan of boats, they can head to The Port to captain a ship! Your whole family will enjoy a visit to the Port Discovery!
General Admission: $17.95 per person
"My two daughters had a wonderful time here on our first visit. There was so much to do. There were helpful, kind, and joyful employees everywhere ensuring safety precautions were being followed. It was like a Disney World level of customer service. Great job to the staff."
– Michelle A
"What a great place for kids. So much to do. A huge net to climb and lots of arts and crafts. A must visit for kids 2+"
– Kerlene Tam
"We came here with our daughter who is almost 3. We had a wonderful time. Everything is clean and well kept. She loved the arts and crafts room as well as the big kitchen. We saw many employees sanitizing toys and exhibits. It was a pleasure we will be back for sure!"
– Rohan Nabar
"Great interactive learning experience for kids! So many activities to keep them engaged. We loved it so much we purchased a 1-year membership on our first visit. They make it easy by allowing you to put the price you paid for your visit towards the membership fee. Love this museum!"
– Nichelle Mandjila